Microchip shortage update – how to solve the problem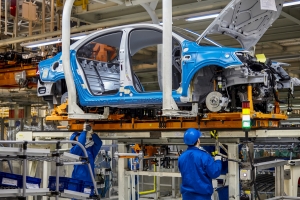 (Posted on 10/09/21)
LEAD TIMES
Lead times for new vehicles are getting longer. Manufacturers have warned that delays have now surpassed a year.
Jaguar is the latest manufacturer to announce a further delay in lead times. Models affected include the Jaguar E-Pace, Land Rover Discovery, Land Rover Discovery Sport, Range Rover Evoque, and Land Rover Defender.
There are still some models available to order for those who can be flexible. These include the Jaguar I-Pace and F-Type.
Mercedes has announced it will remove extra specifications from some models to help speed up delivery times. Anyone ordering a new Mercedes should check the specification list before ordering.
Some of the items removed include wireless mobile phone charging, hands-free boot lift, multibeam LED headlights, and some sound systems.
Toyota is the latest manufacturer to announce a cut in production. It will reduce global production by 40% this month.
Volkswagen has also said it may cut production even further. Renault's production is down this year and Tesla is looking at alternatives to microchips.
CAR REGISTRATION
According to the Society of Motor Manufacturers and Traders (SMMT), UK new car registrations fell by 22% in August.
Mike Hawes, SMMT Chief Executive, said: "While August is normally one of the quietest months for UK new car registrations these figures are still disappointing, albeit not wholly surprising. The global shortage of semiconductors has affected UK, and indeed global, car production volumes so new car registrations will inevitably be undermined. Government can help by continuing the supportive Covid measures in place currently, especially the furlough scheme which has proven invaluable to so many businesses.
"As we enter the important September plate-change month with an ever-increasing range of electrified models and attractive deals, buyers in the market for the new 71 plate can be reassured manufacturers are doing all they can to ensure prompt deliveries."
HOW TO SOLVE THE PROBLEM
There are still options for fleets and personal leases. Some funders allow you to extend the lease on your current vehicle. We make this as simple as possible, contacting the relevant funders on your behalf. Lease extensions are subject to individual funders, but they are possible.
As a broker, we can also source short-term hire vehicles at discounted rates. This allows you to bridge the gap between your next lease vehicle.
There are some stock vehicles available for immediate delivery.
Our customer service team works with our account managers to check the latest availability.
This enables a seamless process. Finding the best prices on available stock deals which means customers can take delivery sooner.
FLEETSAUCE
Contact us today to discuss your options.
Website www.fleetsauce.co.uk
Call 0800 0321 433
Social Media Facebook Twitter LinkedIn

Expert Advice

Competitive Prices

Road Tax & Roadside Assistance

Free National Delivery

Full Manufacturer's Warranty