An Electric Car That Charges Before You Finish Your Coffee...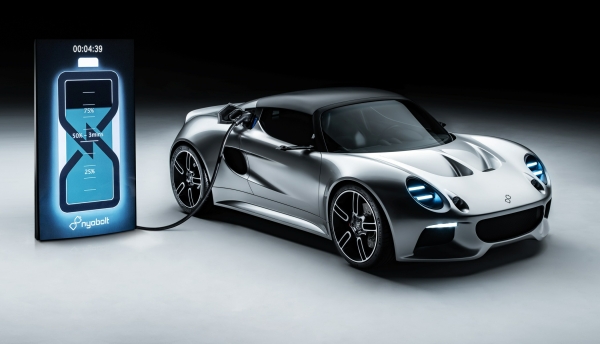 (Posted on 04/07/23)
One of the main issues people have with electric cars is the time it takes to charge them. Manufacturers such as Tesla have actually made great strides in cutting down charge times but they still fail to compete with the speed of filling your car up with petrol or diesel.
However, a little known UK based manufacturer of fast charging batteries has just released news of a concept car they think will dramatically cut down the time it takes to charge your electric motor to just 6 minutes.
This is faster than it would take to finish a latte at the service station or even faster than it would take to walk into that same service station to pay for fuel.
Nyobolt is showcasing a vehicle based on a Lotus inspired design that can charge fully and repeatedly in less than 6 minutes - a new record in automotive electrification. So you have a car that is not just quick to charge but is also a head turner. But wait there's more…

The battery used in the concept car is also much more lightweight than the heavy batteries you see in most electric cars today. This will not only cut down manufacturing costs, but also the raw materials that go into producing them, cutting down the environmental impact and cost to the end buyer.

Nyobolt is showing that this is no longer the case - Nyobolt is revealing new battery technology that is smaller and lighter and can also be fully charged in just six minutes, with a range of up to 250 km. This breakthrough translates to a nimbler, more efficient EV with a lower up-front cost, lower running costs and lower use of scarce raw material.

The Nyobolt EV weighs closer to one tonne than two, uses a 35kWh battery and is capable of fully charging with up to 250km range in under 6 mins with existing charging infrastructure. That's the equivalent of charging at over 1,600 mph, more than double the fastest charging cars on the road today. 1

Nyobolt's ready-to-deploy technology, which will go into production in early 2024, unlocks this 'holy grail' through a proven 10C (six-minute) charge lithium-ion technology.

Sai Shivareddy, CEO at Nyobolt, said: "Unlocking the challenges faced by electric vehicle designers has been key to the development of our breakthrough fast-charging batteries. Previously, enabling a lightweight fast-charging vehicle was not possible without compromising its lifetime and so people have been relying on costly and large battery packs in the vehicle.
With our unique technology we have achieved a six-minute charge car, and developed smaller battery packs that can deliver more power and charge in less time.

"Our partnership with CALLUM shows how adoption of system-level technology innovations can transform the future of electric vehicles and increase accessibility of EVs, including to the 40% of UK households who can't charge their vehicle at home overnight."

Expert Advice

Competitive Prices

Road Tax & Roadside Assistance

Free National Delivery

Full Manufacturer's Warranty