Fleetsauce & V4B Take Part in Local Blood Donation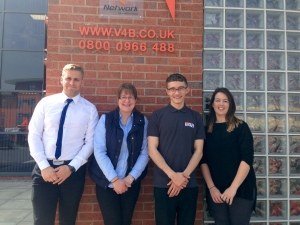 (Posted on 15/05/17)
Employees from two local companies have joined together to make a group blood donation in a bid to save lives and increase the number of donors.
Staff from the Wrexham-based V4B Group which includes Fleetsauce and Vehicles for Business (V4B), decided a group donation would go further to the cause than individual donations.
Employees from both companies travelled to the Holt Lodge Hotel, during their lunch break, on May 10, where a mobile donation unit was in place.
Steven Heighway, account manager at fleet management and leasing company, Fleetsauce, donated. He said: 'Our staff care even more about people than they do about cars. Offering their time to support this worthy cause is fantastic and we hope it goes some way to sustain the incredible work the NHS Blood and Transplant service performs.'
NHS Blood and Transplant needs to collect 1.6 million units of blood each year to meet the needs of patients across England.
Adele Braisdell, receptionist at vehicle leasing and contract hire broker, V4B also donated. She said: 'Actually giving blood is a small gesture but it goes a long way to helping save some of the thousands of people who need it each year. It only takes five minutes to donate but has a lifetime of implications for those who receive it.'
There are four main blood groups – O, A, B and AB. Group O is the most common and the most in demand. A regular supply of blood is vital as red cells only last 35 days and platelets only seven days.
Some blood groups, such as O negative, A negative and B negative are vulnerable to shortfalls.
A spokesperson from NHS Blood and Transplant said: 'We need just under 200,000 new blood donors each year to replace those who no longer donate for reasons such as ill health, pregnancy or foreign travel and to ensure we have the right mix of blood groups to match patient needs in the future.'
In general, if you are fit and healthy, weigh over 7 stone 12 lbs and aged between 17 and 66 (up to 70 if you have given blood before) you should be able to give blood.
Picture caption: Some of the donors from the day. L to R: Steven Heighway (Fleetsauce), Rachael Williams (Fleetsauce), Corey Cain (V4B), Adele Braisdell (V4B).

Expert Advice

Competitive Prices

Road Tax & Roadside Assistance

Free National Delivery

Full Manufacturer's Warranty