Driver misery as road maintenance shortfall unveiled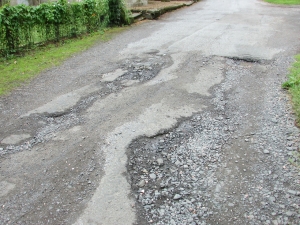 (Posted on 25/01/18)
Drivers using local roads could be faced with further congestion and maintenance issues as a funding shortfall is unveiled.
National roads – motorways and major trunk roads – will receive 52 times more government funding per mile by 2020, compared to local roads maintained by councils.
The Local Government Association (LGA) is calling for the Government to tackle this current disparity in the maintenance funding it provides for national and local roads, so that councils can tackle the £12 billion repair bill to bring local roads up to scratch.
New analysis by the LGA reveals the Government plans to spend £1.1 million per mile to maintain its strategic road network between 2015 and 2020. In comparison, it will provide councils with just £21,000 per mile for the local roads they maintain over the same period.
This is despite an increase in the number of cars travelling on local roads, average speeds falling and local roads making up 98 per cent of the country's road network.
Cllr Martin Tett, LGA Transport spokesman, said: "It is wrong that funding for local roads is miles behind that of the strategic road network.
"Very few journeys begin and end on a motorway or trunk road. Spending 52 times more on improving our national roads will only serve to speed vehicles up between increased delays and congestion on local roads."
There are now 125 cars per mile on our roads compared to 101 cars per mile in 2000. Councils say this is ratcheting up the pressure on local transport, causing congestion and road maintenance issues such as potholes, wear-down of road markings, and increasing general wear and tear.
Council leaders want the Government to deliver a radical new strategy to provide a fully-funded plan for the growing number of vehicles on the nation's roads. This should include reinvesting 2 pence per litre of existing fuel duty into local road maintenance, which would generate £1 billion a year for councils to spend on improving roads and filling potholes.
Tett added: "Our local roads form vital arteries for our communities. But with almost 30 per cent more cars now on the nation's roads than in 2000, they are under more pressure than ever before.
"Councils are fixing a pothole every 19 seconds despite funding pressures. They want to do more but are trapped in an endless cycle of patching up our deteriorating network. It would already take £12 billion and more than a decade for councils to clear the current local roads repair backlog.
"Only long-term and consistent investment in local road maintenance can allow councils to embark on the widespread improvement of our roads that is desperately needed, to the benefit of motorists and cyclists up and down the country."

Expert Advice

Competitive Prices

Road Tax & Roadside Assistance

Free National Delivery

Full Manufacturer's Warranty