Fleetsauce Expands With Two New Appointments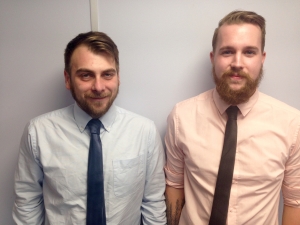 (Posted on 16/10/17)
Contract hire and leasing group, Fleetsauce is continuing its expansion drive with the appointment of two new account managers.
Mike Adamson and Jordan Smith have joined the group and will be building new relationships within the B2B marketplace. They will be working with fleets in the sub-50 bracket, dealing with both car and commercial vehicle fleets.
Adamson previously worked at Fleetsauce in 2015 as a lead generator before leaving to join Cox Automotive as branch manager on We Want Any Car.
Here he gained valuable experience, particularly in the used car market. He increased his vehicle knowledge as part of the role involved driving up to 40 vehicles a week.
He said: 'Given how much I learned working for Tony previously and how much I enjoyed it, it made absolute sense to ask for my old desk back and return to Fleetsauce. I am now looking forward to the challenge of a new role and thankfully, director Tony Povey was happy to have me back.'
Smith has joined Fleetsauce from O2 where he was a sales advisor selling mobile phones and tablets to business and consumer customers in-store.
He said: 'I have several years' experience in face-to-face sales and after accepting the role at Fleetsauce, I'm looking forward to taking my career in a new direction while building strong relationships within the fleet industry.'
Image: L to R: Mike Adamson and Jordan Smith

Expert Advice

Competitive Prices

Road Tax & Roadside Assistance

Free National Delivery

Full Manufacturer's Warranty