Our Newest Employees Feature in Fleet News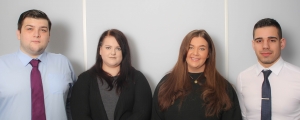 (Posted on 13/02/17)
WREXHAM-BASED FLEET MANAGEMENT AND LEASING BROKER SUPPORTS JOBS GROWTH WALES WITH FOUR NEW RECRUITS
Four trainees have been offered full-time positions at fleet management and leasing broker, Fleetsauce as part of the Jobs Growth Wales programme.
The recruits undertook an intensive six-month training programme which involved a comprehensive induction on how the motor industry operates, updates such as tax legislation and how Fleetsauce is placed within the industry.
Followed by on-the-job training in sales and administration, the trainees shadowed experienced employees and worked with a dedicated Network trainer.
Two have now been offered positions as trainee account managers with two joining as trainee administration assistants.
The new recruits are part of a long-term growth strategy for Fleetsauce and Tony Povey, managing director at Fleetsauce said: 'We're delighted to offer four full-time positions to the trainees which have all shown dedication while on the programme.
'We've committed to provide on-going training including sales compliance and one-to-one coaching with the trainees, which have also been placed on a job-related NVQ to develop their skills further. Being able to support the Welsh economy and contribute to Jobs Growth Wales has been an added incentive for us.'
The initiative, which is funded by the Welsh Government with the support of the European Social Fund was initially launched to create 8,955 new job opportunities for trainees aged 16-24 year over a three-year period.
Companies can recruit an unemployed young person and the Welsh Government will help meet 50% of the cost for the first six months at the national minimum wage for their age. European funding worth £25m of has been approved to support the continuation of the programme.
This article was featured here: http://www.fleetnews.co.uk/fleet-leasing/news/latest-fleet-leasing/2017/02/06/fleetsauce-expands-team-through-jobs-growth-wales-programme

Expert Advice

Competitive Prices

Road Tax & Roadside Assistance

Free National Delivery

Full Manufacturer's Warranty