Rise in UK Car Production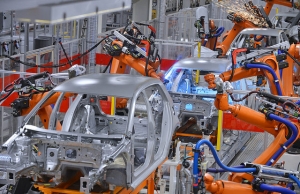 (Posted on 24/08/17)
There was positive news for manufacturers in July as figures from the Society of Motor Manufacturers and Traders (SMMT) showed that output increased as new models came of the production lines.
British car manufacturing rose 7.8% in July, with 136,397 new units rolling off UK production lines, according to figures released by the SMMT. Major carmakers ramped up production for new and existing models in the month ahead of summer factory shutdowns, which provide an essential period for plant maintenance, upgrades and re-tooling.
Year-to-date new car production remains solid and has now passed the one million mark, though showing a slight dip of -1.6% compared with 2016, in line with expectations. Since January, overseas customers have taken delivery of 78.8% of new cars made in Britain, with UK manufacturers now exporting cars to more than 160 different countries around the world.
Production for the UK bounced back in July, in readiness for the important September market, following seven successive months of decline, rising 17.7% – an increase of 4,490 units – while exports also grew by 5.3%. Cars made for overseas buyers represented nearly 80% of output in the month with 106,525 units shipped abroad, compared with 29,872 which stayed at home.
Mike Hawes, SMMT Chief Executive, said, 'UK car production lines stepped up a gear in July, as usual bringing forward some production to help manage demand ahead of September and routine summer factory shutdowns. As the timing and length of these manufacturing pauses can shift each year, market performance comparisons for July and August should always be treated with caution, but as long as the economic conditions at home and abroad stay broadly stable we expect new car production to remain in line with expectations for the rest of 2017.'
Source: SMMT

Expert Advice

Competitive Prices

Road Tax & Roadside Assistance

Free National Delivery

Full Manufacturer's Warranty